Aruba Belongs on Your Travel Bucket List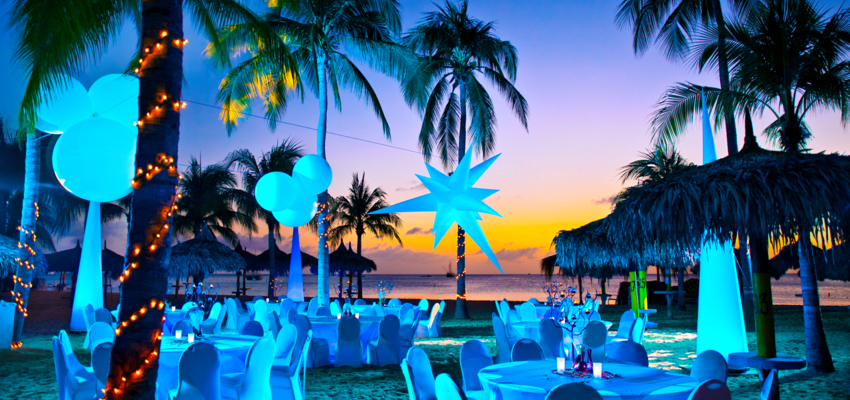 I just returned from a few days with some romance travel colleagues, visiting with wedding departments at resorts in Aruba. Let me say that Aruba is a little piece of heaven, and you should add it to your bucket list. For destination weddings, Aruba is a little different. Although same sex weddings are not yet legal, the country is making great strides in changes their to laws.
Until that happens, you can still have a beautiful beach blessing ceremony to celebrate your wedding. Consider tying the knot privately before you leave home, then your family and friends can all join you in Aruba for a wonderful celebration, including that beach ceremony. We saw many of the locations the resorts use for blessings. Sunsets are spectacular in Aruba, and the resorts know how to set up their beaches for your perfect ceremony.
One of my favorite resorts is the Renaissance Resort in downtown Oranjestad. Instead of a beach, the Renaissance has a launch that can take you to their private island. This island has two different beaches. One is the flamingo beach (with flamingos who are very friendly); the other is the iguana beach (yes, full of iguanas.) The boat runs every fifteen minutes, which makes it very easy to go to the island for the day. Restaurants are on the island, so you don't need to go back to the mainland to eat or drink.
Aruba has few all-inclusive resorts, and this is by design. Aruba wants you to get out of your hotel and enjoy the local food and nightlife. No trip should miss the Kukoo Kunuku bus. Visit their website at http://www.kukookunuku.com/. It is the best fun you will ever have. The bus takes you to all the popular night spots then delivers you back to your hotel, so you can party all night long.
Aruba's motto is "One Happy Island!" And this little island has it all. You can see everything from a natural bridge to beautiful small churches, butterfly farms and shopping galore. Or you can take a sunset cruise on a catamaran. Slicing through the calm waters with a beautiful sunset is a memorable experience.
Have I convinced you yet? Maybe you know someone who has been to Aruba, and they will agree, it is one happy little island! Call us to help find the perfect Aruba location for your romantic getaway or wedding celebration.