Getting Married in Wine Country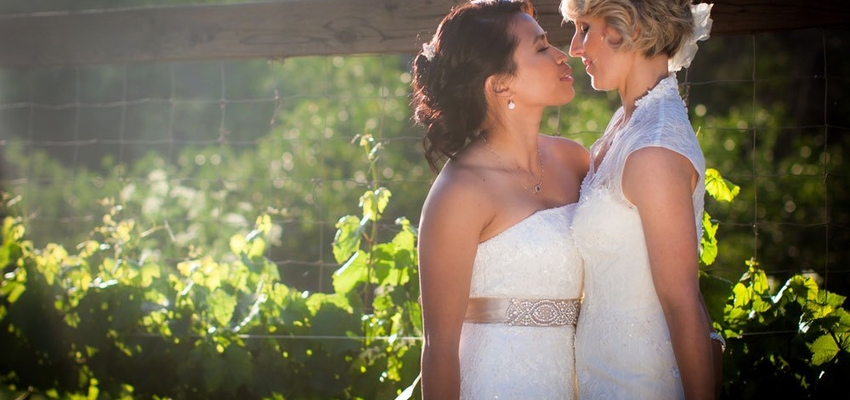 California's wine country is not only a popular vacation destination, but it is also a popular wedding destination! With so many choices, we can certainly help make all of your arrangements.
Whether you are a local resident who is just taken in by the beauty of wine country or if you live clear across the country and you want to plan a destination wedding, you will have a number of important decisions to make. These decisions, a few of which are outlined below, should not be made on impulse. Even last-minute wine country weddings should require some planning and preparation. After all, you do want your special day to be just as you imagined it in your dreams, right?
One decision that you will have to make, when planning a wedding in California wine country, concerns your venue. Where do you want to get married? Where do you want to hold your wedding reception? For many, the perfect location is a winery or a vineyard. Many have spaces, such as private outdoor patio areas or indoor banquet style rooms that are perfect for weddings, as well as other private events. You can easily learn more about these wineries and vineyards by using the internet. Many have online websites, which should outline whether or not they have spaces on their property available for rent.
Another important decision that you will have to ask yourself is if you would like to have your wedding reception and ceremony in the same place. If your religious faith calls for a church, you will find several churches in the area for you to choose from. With that said, if you are more flexible with your options, you may find the best success when having your wedding reception and ceremony at the same place. While you will find some variations, there are many wineries in California wine country who have beautiful, private spaces set up, often outdoors, that are perfect for a wedding ceremony. This is in conjunction with an outdoor patio area or banquet room that is available for rent for a wedding reception.
How much you have to spend or how much you want to spend on a California wine country wedding is another important decision that you will need to make. If you are planning a destination wedding, it is important to take your travel costs, like your airline reservations, into consideration. With that in mind, remember that you can also save money on travel costs by having your wedding ceremony, wedding reception, as well as honeymoon all in wine country. As an extra way to save money, be sure to look for moneysaving vacation packages.
Nearby accommodations should also be examined, when looking to plan a wine country wedding. Not only will you want to decide for yourself and your new spouse, but for your guests as well. Even if you are not paying for your guests to stay in the area, be sure that accommodations are available for your wedding date. You may also want to look for hotels and resorts that have wedding packages available for sale. Many of these packages not only provide you with affordable rates, but they may also include an onsite wedding reception and ceremony.
The other common aspects of planning a wedding should also be examined. For example, will you be able to find a local wedding photographer, DJ, or catering company? If you can, book your wedding date well in advance, especially if you will be getting married in late spring or summer. Also, be sure to keep vacation packages in mind. Local hotels, resorts, and wineries may have wedding packages available where most of your needs, like food, music, and wedding pictures, are included in the overall cost of your wedding.
The above-mentioned decisions are just a few of the many that you will have to make, when looking to plan a wine country wedding. By taking the factors highlighted above into consideration, you should be able to have the wedding of your dreams in wine country, without having to spend too much money doing so.