Mexican President Calls for Nationwide Legalization of Gay Marriage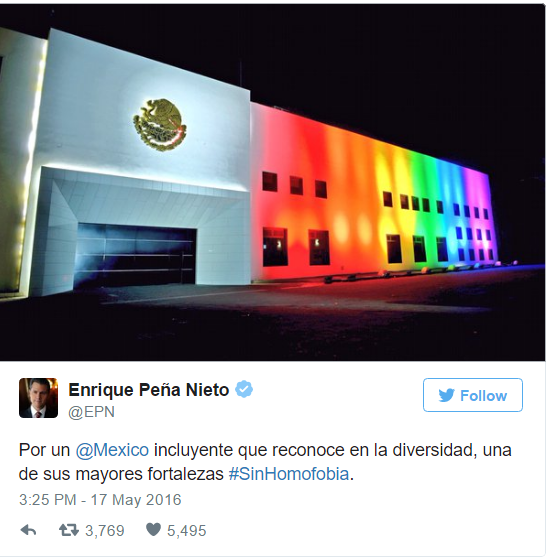 Last Tuesday, Mexican President Enrique Peña Nieto called for the legalization of gay marriage nationwide, a move in accordance with a ruling from Mexico's Supreme Court last year that found it was unconstitutional for states to ban same-sex marriage.
Associated Press reports, "Speaking at an event on the International Day Against Homophobia, Peña Nieto said he signed initiatives that would seek to amend the constitution and the national civil code."
What a terrific headline! While certain areas of Mexico already recognize same-sex marriages, this will be a welcome move forward. If it passes (and the prospects look good), all states will be able to perform weddings across the whole of Mexico.
The people of Mexico are a very friendly nation. Many of the workers at the resort hotels touch their hands to their hearts when they greet you, in a warm message of their hospitality and friendliness.
My husband and I are going to Mexico in a couple of weeks and having a vow renewal at one of the beautiful properties in Cancun. Although for us it is a vow renewal, many weddings are now being celebrated in the gorgeous tropical beachfront resorts of Cancun and Riviera Maya. The historic old hotels of Mexico City are another great choice for unforgettable wedding celebrations.
The beaches of Mexico are beautiful and the Mexican people sure know how to throw a party! So consider a destination wedding in Mexico. It's more affordable than you might think, and you have many spots to choose from where marriage equality is already legal. We can help you find the perfect location for your wedding for 10, 20, 30 people or more, so that you can take advantage of the great value that is a Mexican destination wedding!