Our New 14 Stories Certification Helps Us Help You Even Better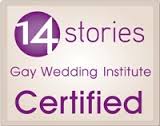 As Travel Agents, we are constantly taking courses to help us understand our vendors' resorts, cruise lines, and what they offer in terms of special promotions. Many times these certifications happen at Resorts, so we can see a new resort and meet the management. Thanks to these courses, plus our firsthand experience at the resorts, we can often give you a personal recommendation for the right resort for you, and even perhaps the promotion deal that matches your budget and your travel plans.
Lately, I returned from a different kind of training that we consider just as important to our travel services. I spent three days at a Cancun Resort studying under Bernadette Covey-Smith, the founder of 14 Stories, a boutique event planning firm specializing in same-sex weddings. Bernadette and her company have a vision of a global wedding industry that welcomes all couples. In pursuit of that vision, she travels often to teach workshops to agents like us. Bernadette is a wonderful teacher with a lot to share on how travel agents can help same-sex couples with their wedding and honeymoon plans.
The 14 Stories certification helps us make sure that same-sex couples are treated with the same respect as our straight couples throughout your wedding and honeymoon. At this workshop, we learned how to interview wedding vendors to ensure each vendor is sensitive to each couple's uniqueness. I am proud to say I completed the course and now can include 14 Stories in my list of certifications.
If you are thinking of getting married, or know a couple in the early stages of wedding planning, let them know that you know a trained professional who can help them plan the destination wedding and honeymoon of their dreams.