Start Your Southeast Asian Adventure in Myanmar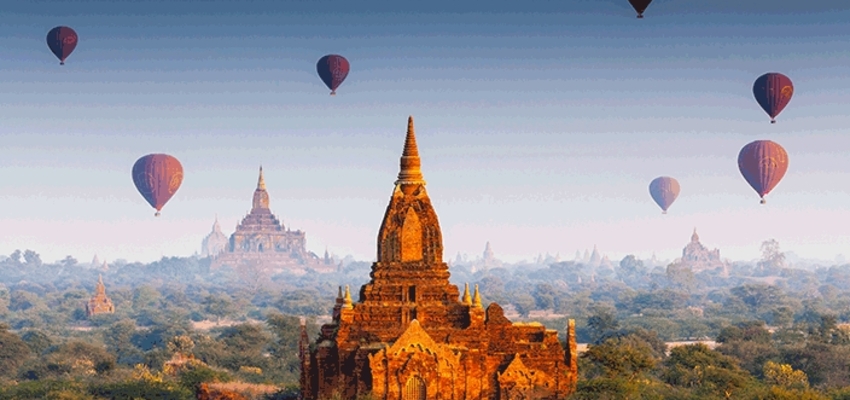 I want to tell you about a great adventure trip I just completed for some customers. Many LGBT travelers have found the beaches of Thailand to be irresistible. But only a short trip from those beaches is the amazing country of Myanmar (also known as Burma). This country has it all! Golden Buddhas, elaborate pagodas, and a very unique cultural diversity.
Two of Myanmar's major cities are Yangon and Mandalay. Yangon (formerly called Rangoon) is considered the Garden City of the East, with its tropical flowers wonderful gardens and parks. Take a stroll along the tree-lined streets and notice the many colonial-era buildings in this beautiful city.
Mandalay is known for its beautiful Buddhas. Huge bronze Buddhas covered in gold leaf are one of the main attractions. You can even visit the workshops of the craftsmen creating the gold leaf for the Buddhas.
And there is so much to see in between these two cities. There are beautiful lakes, towns, monasteries, and a visit to Mt. Popa, with its monastery perched at the top of the sheer-sided volcanic plug.
To top off your adventure, you can take a voyage on the great Ayeyarwady (Irrawaddy) River, one of Southeast Asia's major rivers, with all the wonders of the small river towns and inlets to view along its banks.
When we arrange a trip for you, we use local tour guides who live and work in this fascinating country. By land or by river cruise, Myanmar is a country to put on your bucket list. Let us help you arrange the perfect adventure trip in this lovely country. Call us today to learn more, or to start planning your trip.