Yacht Cruising with Trekr Adventures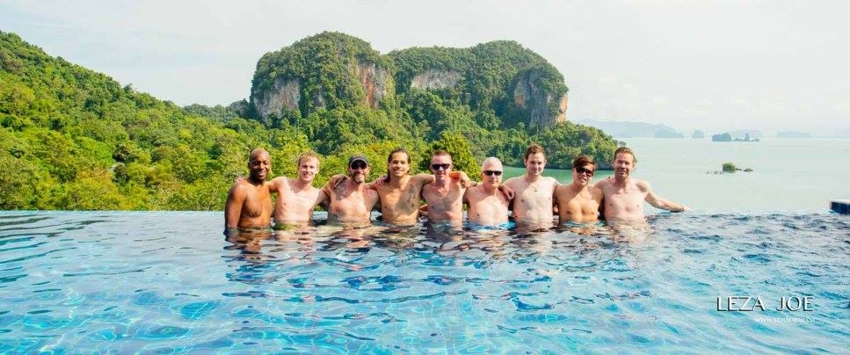 This month we want to introduce you to Trekr Adventures, a brand new adventure cruise company. Here's what they have to say about their cruises:
****
Trekr Adventures helps people connect, travel, and experience the world with like-minded individuals. We organize trips of a lifetime while fostering an all-inclusive and fun atmosphere. Our flagship sailing adventure trips take place on luxury style catamaran yachts in exotic locations. We are LGBT owned and operated, with the overarching goal of fostering a community environment that lets everyone have a fun and relaxing time, all while traveling to destinations that are both interesting and unique.
A wedding invitation on the other side of the world sparked an idea: organize a handful of friends to go sailing in Thailand. Conversations turned into excitement. Excitement turned into planning. Yachts were reserved, flights were booked and we set sail on the inaugural Trekr adventure. Serene sunrises, adventurous excursions, new friendships and fellowship ensued. When it was done, we knew it was just a beginning.
Following our inaugural sail in Thailand, Trekr Adventures headed to the Southern Dalmatian Islands of Croatia with a robust group of people. The success of this trip solidified Trekr Adventures' mission to bring together people for amazing travel experiences and our dedication to continuing that mission. Accordingly, we have a full and exciting 2017 season:
Abacos Islands, Feb 18-25
British Virgin Islands, June 3-10
Greece, August 26-September 2 & September 2-9
Thailand, December 16-23
Cambodia & Vietnam, December 23-30
Trekr welcomes you to join us on an adventure of a lifetime. We handle all of the logistics, allowing you the opportunity to enjoy the experience. Included in the cost of the trip is a luxury catamaran with air conditioning, a qualified skipper, snorkeling equipment, stereo and cockpit speakers, a double occupancy cabin, sheets, towels and more.
Airfare is not included in the cost. You and your fellow Trekr crew will also share the costs of food, beverages and any docking or mooring fees. We will work with you to determine the best approach for your yacht.
We invite you to explore our website to learn more about Trekr Adventures. Whether you are a virgin sailor or an old hand, this is for you. Whether you want to relax or want to learn how to sail, this is for you. What we have learned from this endeavor so far is that people value amazing experiences so much that they want to come back for more. We hope that you will join the Trekr family and build memories that will last a lifetime.
****
Here at LGBT Vacation Planners, we are excited about Trekr Adventures. If you want to book one of their 2017 cruises, give us a call, and we will help you arrange the whole trip.